Vorige week vertelde ik jullie al dat er heel wat producten het assortiment van Catrice verlaten. In de plaats komen er uiteraard weer een heleboel nieuwe producten, die we hier even voor jullie hebben opgesomd.
Laten we starten met datgene waar iedereen altijd het meest naar uitkijkt: de nagellakjes!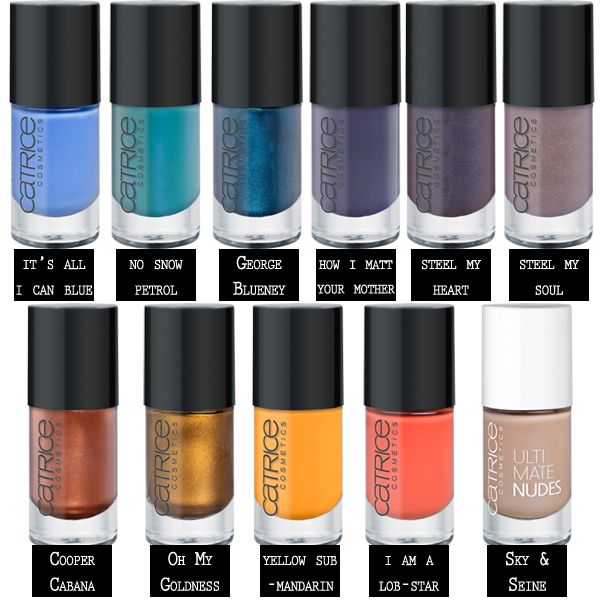 In totaal komen er 11 nieuwe lakjes bij. We zien heel wat blauwtinten, dus ik heb zo'n gevoel dat ook komende winter blauw weer hot is. Al gaat het nu om meer metallic, glitterlakjes, waar vorig jaar het Dior-blauw hoge toppen schoor. De Ultimate Nail Laquers van Catrice kosten €2,49 per stuk.
Ook de oogproducten zijn zo'n grote favoriet van iedereen. Zo komen er drie mascara's bij. Ik ben vooral benieuwd naar de Glamour Doll Volume Mascara, omdat die me doet denken aan de Lancôme Hypnôse Doll Eyes mascara, maar dan met een fijner prijsje. Ook de Lash & Brow Designer – Shaping and Conditioning Gel lijkt me zo'n must-have product. Verder wil ik zeker ook de Absolute Eye Colour Mono Eyeshadow in Pearl Mac Cartney hebben.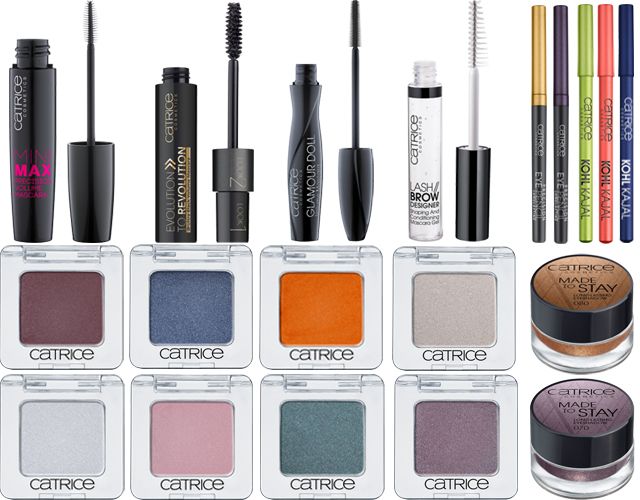 Mini Max Precision Volume Mascara (€2,99) – Evolution To Revolution Ultra Black (€4,49) – Glamour Doll Volume Mascara (€3,99) – Lash & Brow Designer (€2,99) – Precision Eye Pencil Gold me tight! – My Ninja Purple (€2,29) – Kohl Kajal Greentings From… – Missing Nemo! – Blue I Know You? (€1,99) – Pearl Mac Cartney – Plump Up The Jam – Saw It On Blue Tube – Rosie's Marie's Baby – Carrots Of The Carribean – Blackwood Forest – Dorian's Grey – I Like To Mauve It (€2,79) – Copper & Gabbana – Mauvie Star (€3,49)
Natuurlijk kunnen de lipproducten ook niet ontbreken. Een volledig nieuwe lijn is de Liquid Liptint, een soort van revolutionaire lipstain. Leuke kleurtjes, zal ik zeker eentje van kopen. En Catrice moet natuurlijk ook volgen in de trend, na L'Oreal met zijn doorzichtige en aanpasbare lipstick en Maybelline's Popsticks is er nu de Ultimate Lip Glow die je eigen lipkleur intenser maakt.
Lip Appeal Moisture & Shine Lip Gloss Nude-Tricious – Peach Boy – Flirty Fuchsia – Little Red Dress (€3,79) – Liquid Lip Tint Are You Red-y? – Wine-Tastic – Red My Lips (€3,99) – Ultimate Lip Glow Lip Colour Intensifier (€4,99) – Ultimate Colour Lip colour Step Red Up – Ultimate Shine Lip Colour And The Oscar Goes To… (€3,99) – Glamourize Me (€3,99)
Ten slotte de gezichtsproducten, er komt een nieuwe lijn van foundations bij, al vind ik dat er nogal rare kleurtjes tussen zitten. Waar ik wel erg benieuwd naar ben zijn de nieuwe prime & fine producten, al wacht ik liever de reviews af voordat ik dit koop.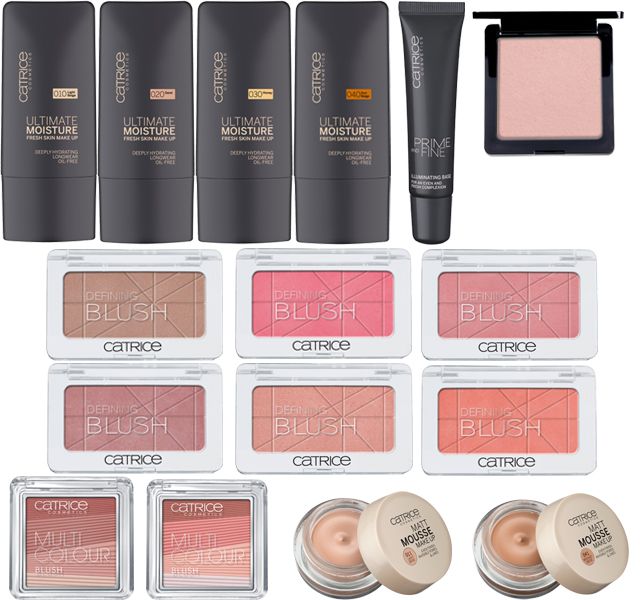 Ultimate Moisture Fresh Skin Make Up (€5,49) – Prime And Fine Illuminating Base (€4,99) – Prime and Fine Highlighting Powder (€4,49) – Defining Blush Toffee Fairy – Think Pink – Rose Royce – Rosewood Forest – Apropos Apricot – Love & Peach (€3,49) – Multi Colour Blush Iced Caramel Macchiato – Strawberry Frappucino (€3,99) – Matt Mouse Make Up (€4,99)
Wat vind jij van deze assortimentsvernieuwing? Welke producten staan op jouw wishlist?