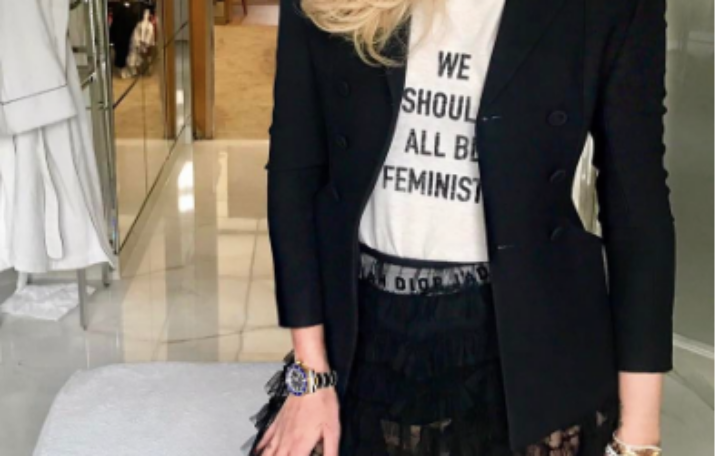 Het jaar is nog maar net begonnen of er is al een IT-shirt gespot. Een eenvoudig wit t-shirt van Dior is al wat de klok sloeg op Paris Couture Week.
Februari is in zicht en dat betekent: fashion weeks! Naar jaarlijkse gewoonte begint het in modeland al te kriebelen rond half januari met Couture Week in Parijs. Daar spot je dan ook de eerste trends van het aankomende seizoen. Dit jaar geen chokers, felle kleuren, bontjes, glitters of meer van dat, maar gewoon een eenvoudig wit t-shirt met de tekst: "We should all be feminists."
I want it #dior #weshouldallbefeminists pic.twitter.com/jbsg3wvCma

— Marie Frossard (@MayBb_) January 26, 2017
Rihanna, Natalie Portman, Jennifer Lawrence en anderen flaneerden in Parijs en omstreken al rond met het t-shirt, kwestie van de boodschap duidelijk over te brengen. De titel verwijst naar een essay van de Nigeraanse schrijfster Chimamanda Adichie over het feminisme in de twintigste eeuw. Zij werd bekend tijdens haar TedX-talks en komt voor in de videoclip van het nummer 'Flawless' van Queen B. Niet toevallig diende dit nummer ook als achtergrondmuziek tijdens de show.
Het shirt van Christian Dior is nu al beschikbaar (op aanvraag), maar er hangt wel een zwaar prijskaartje aan vast. Wat wil je ook bij zo'n statement?
Bron foto bovenaan: @chiaraferragni