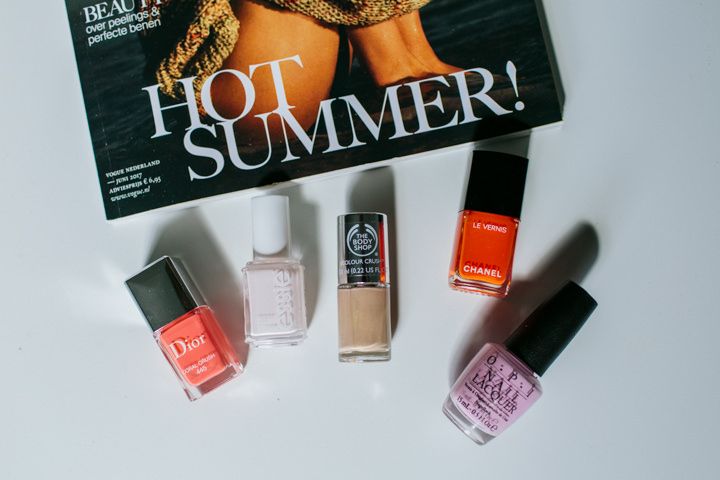 Mijn nagels zien zelden het daglicht, ik ben dan ook een échte nagellak addict. In de zomer ga ik graag voor vrolijke kleurtjes op mijn nagels, tijd dus om mijn favorieten met jullie te delen.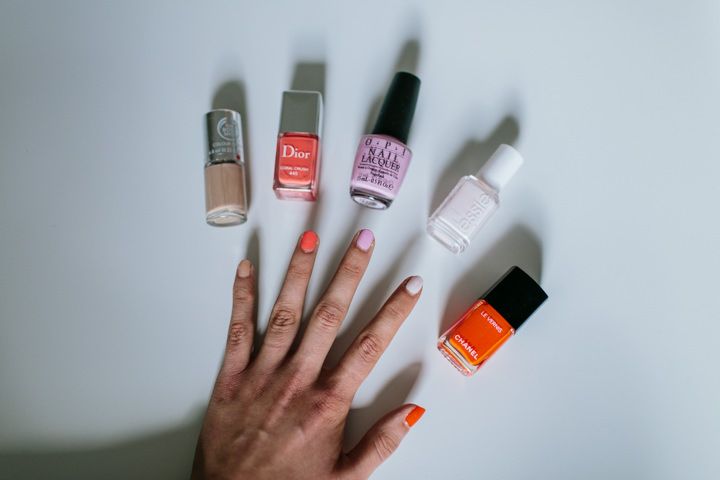 1. The perfect nude (pink)
Je kan niet fout gaan met een nude lakje. Een van mijn all time favorieten is Sand Tropez van Essie, maar dit lakje van The Body Shop lijkt er écht sprekend op en kost ongeveer de helft van de prijs. Win-win!
The Body Shop Colour Crush in Almond Kiss: € 6
2. Peach me (ringvinger)
Een koraalkleurig lakje mocht natuurlijk niet in dit lijstje ontbreken, deze neon-achtige kleur van Dior doet me meteen zin krijgen in warme zomerdagen.
Dior Vernis in Coral Crush: € 25,50
3. Purple Rain (middenvinger)
Een fel kleurtje zoals dit is perfect als je handen al een beetje kleur hebben, gewoon een ideaal zomertintje.
O.P.I. in Purple Palazzo Pants: € 15,25
4. Queen Elizabeth achterna met Essie (wijsvinger)
Blijkbaar draagt Queen Elizabeth al jaren hetzelfde zacht roze lakje van Essie: Ballet Slippers. Wat goed genoeg is voor de queen, is ook goed voor mij. Dit is niet exact dezelfde kleur, maar ze komt wel héél dicht in de buurt.
Essie in Fiji: € 12,49
5. Espadrilles all day long (duim)
Nog zo'n perfect vakantiekleurtje is deze van Chanel met de toepasselijke naam Espadrilles. Een kleurtje tussen rood en oranje in dat mij meteen vrolijk maakt.
Chanel Le Vernis in Espadrilles: € 25